Why is it important to have a mobile-friendly website?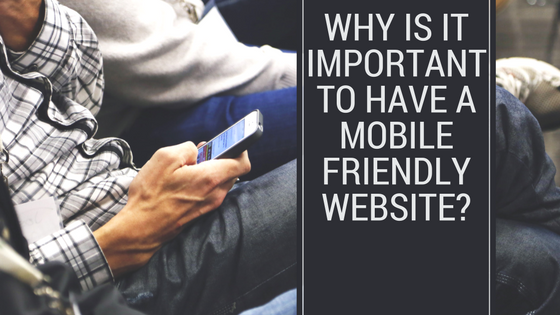 So you spent a bag of money creating a website a couple of years ago and now people are telling you don't have a mobile-friendly website. Updating your website is probably not a priority right? It should be! Read on to find out why.
What is a Mobile-Friendly Website?
A mobile-friendly website is a website that can be viewed easily on a mobile device. The main requirements from Google to be considered a mobile-friendly website are:
Loads fast
Able to read easily:

Without Pinching or Zooming
Easy to navigate
Without too much scrolling (especially horizontal)

Does not use Flash
It is important to make your website meet all the above requirements to ensure all pages are visible on all devices.
Your website's purpose in Digital Marketing
Your website should be the foundation for your digital marketing strategy. It is the place that you will direct your potential customer to 'close the deal'. If a lead comes through a mobile phone and they get frustrated trying to use your site, then the chance of them buying your product is reduced significantly. As in real life, it is beneficial for the business to make it easy for a consumer to buy your product. On the internet, your website is essentially your storefront.
Popularity of mobile internet
Google has noted that in the US, 94% of people with smartphones search for local information on their phones.  77% of these searches are conducted when people are at home or in the office. This means that people prefer to use their phone over their desktop computers.
The world is changing and more people are searching for things on the go. When Vodafone announced in Oct 2016 that they would be providing NBN services by 2017, they also dropped the fact that 5.5 million customers using their network download approx 14,000 TB of data per month. Around the same time, it was released by Krugan that Vodafone currently has 14.2% of the market share. According to our calculations, in Australia on average each person is using about 2.5GB of mobile data per month. If you convert that to website loads, it is about 2000 a month. This figure has been increasing every month.
SEO improvements
Although customer experience is important, the main reason most digital marketing companies will tell you to create a mobile-friendly website is that it improves your Google ranking. Google released in April 2015 that their Google search algorithm would take into consideration whether a website was mobile-friendly.  Users can also see in the search results whether a website is mobile-friendly or not, so users can pick and choose whether it is worth trying to open the website.
So not having a mobile-friendly website could mean that your conversion rate may decrease AND you may receive fewer leads.
Cheaper alternative to a mobile app
When you visit websites of larger companies, you might notice that you are prompted to download or use their mobile app. Mobile applications are great! Users have the ability to connect to you with one click. You also have the opportunity to send notifications to their phones/ smart devices with the click of a button. This must essentially send a direct link to them. However, they do come with a larger price tag than a website.
Better user experience (more conversion, fewer click backs, less bounce rate)
People expect things will work and no one likes waiting. If your site takes too long to load, it is hard to read or navigate through (which is common with sites that aren't mobile-friendly). The users get frustrated and leave your site (either by clicking the back button – click backs or by typing a new URL in the address bar – bouncing). Thus, you lose the opportunity to convert the lead to a customer.
Conclusion
It is important to make sure you have a mobile-friendly website.  It is something that should be provided without asking when you get your website done by a professional (even with websites that were created 5 years ago). However, there are still website companies today who create websites purely for desktop PCs. This is either to wow you with technology that cannot be viewed on mobile devices (like flash) or the company is unaware of the benefits of a mobile-friendly site. We all love to think that we got a bargain, but if your website isn't mobile-friendly don't waste your money. It is better served in your own pocket.
Our websites as standard are mobile-friendly. We are also up to date with the current trends, so you won't need to make major changes later. It also isn't the only thing we do, we have digital marketing consultants. So we can develop a full marketing strategy catered to your needs and budget.
0 Comments